Cornwall divers help baby lobsters survive off Plymouth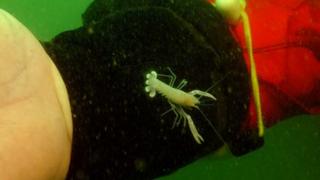 Scuba divers have released hundreds of baby lobsters into the sea off Plymouth as part of a conservation project.
Members of the Bude branch of the British Sub-Aqua Club put the 2in (5cm) lobsters onto the seabed on Sunday.
The dive was done on behalf of a local hatchery which donated the baby lobsters.
The hope was that, by putting the lobsters onto the seabed, fewer would be victims of fish than if they were put in at sea level.
The 900 baby lobsters came from heavily pregnant females which were taken to the National Lobster Hatchery in Padstow by fishermen.
They were released at the site of the sinking of the British gun ship Coronation in 1691. Fishing is banned in the area.
Diver Mark Pearce said: "It is an ideal place to release them because with there being a no take zone in place, it will hopefully give as many of the baby lobsters as possible a chance to grow."
Dr Carly Daniels, senior technician at the hatchery, said she was "delighted" to have the divers' help.
"They are very interesting creatures and believe it or not, they do have their own little characters."