Nine Cornwall debt advisors 'will lose jobs after funding cuts'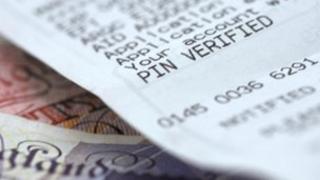 Nine debt advisors in Cornwall will lose their jobs when legal aid funds are withdrawn next year, the Citizens Advice Bureau (CAB) has said.
The CAB said cuts to legal aid meant about 1,500 vulnerable local people a year would miss out on vital help.
Debt advisers claimed other CAB volunteers would have to pick up the work, taking them away from other work.
The government said legal advice was not always necessary and it would still fund high priority debt cases.
'Huge need'
The Legal Services Commission funding of legal aid will end in March 2013.
Katrina Bromfield, a part-time debt advisor based in Newquay, said: "Debt work is very administration-orientated. There are a lot of letters coming in and a lot of letters going out.
"It will add hugely to the work of the volunteers in each CAB office."
Jim McKenzie, from the CAB in Cornwall, said "there's still huge need [for debt counselling and assistance], and it's going to increase".
He said that while some other organisations may be able to help by offering advice over the phone and on the internet, there were some clients who needed face-to-face contact.
He said: "For people who have problems with literacy and numeracy, or people out there with mental health issues - and they are all dealing with the stress that can come with debt - they need to see someone."
The Ministry of Justice said that "legal advice is not always the only option and early practical advice can sometimes be of more help.
"After careful thought about which areas should be cut from legal aid, it [the commission] will be continuing to fund what is calls high-priority debt cases from a £50m fund".