National Trust's secret Devon nursery saves rhododendron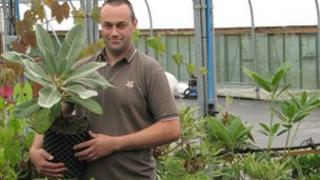 A rare rhododendron from Cornwall has been rescued from extinction.
The plant at Trengwainton Gardens near Penzance had been affected by a fungus, phytophthora ramorum, commonly known as sudden oak death.
But the only surviving rhododendron macabeanum was saved by the National Trust's Plant Conservation Centre at a secret location in Devon.
Locked gates ensure security for trust staff who are investigating diseases and the effects of global warming.
The centre's manager, Chris Trimmer, said the team was delighted to have saved the rhododendron macabeanum.
'Immense importance'
Mr Trimmer said: "It's a very large leaf rhododendron. It will take up to 60 years to get to its full maturity, but this is the original macabeanum which flowered in this country and from which all the other ones in the trade came from."
Mr Trimmer said: "By offering access to our expertise and first class facilities we can contribute to important plant conservation work beyond the National Trust."
The opening of the new facilities comes at a time when the spread of new plant diseases in the UK, in particular the fungus phytophthora ramorum, required an acceleration of emergency propagation to ensure the survival of threatened specimens.
Mike Calnan, head of gardens at the National Trust, said: "The National Trust's portfolio of plants is of immense importance and is one of the most significant collections in the UK.
"This is the most important plant conservation initiative from the National Trust for more than 60 years and will have a legacy for decades to come."