Cornwall Council considers plans for university bursaries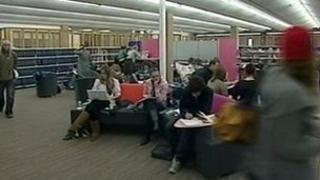 Young people in Cornwall may soon be offered extra financial help to encourage them to go on to university.
Cornwall Council wants to set up a scheme to raise aspirations and help those who would struggle with the costs of higher education.
It is planning to offer bursaries ranging from £30 to £3,000.
Families with a household income of £42,600 or below would be eligible to apply for up to £3,000 depending on the course and where they plan to study.
But all students who have lived in the county for more than three years will be offered £30.
'Difficult times'
Figures from the Sutton Trust in 2011 - which aims to improve educational opportunities for young people from non-privileged backgrounds - said 58% of state school pupils from the county went into higher education, compared with the national average of 64%.
Cornwall Council chief executive Kevin Lavery said the Conservative-Independent led authority "wants to do something about that".
He said: "These are difficult times. We've got record levels of graduate unemployment, university fees are going up; and, traditionally, Cornwall has always had low participation in further and higher education."
"We want to help the students, but we also want to help the local economy; it's good for our economy [to have graduates return]."
Truro and Penwith College student Jed Brokenshire, aged 18, hopes to go to university.
But with fees of up to £9,000 per year for a course, he said he was not sure he could afford it and that any financial help could make a difference.
He said: "I'd be more willing to go if I knew I'd have less debt at the end of it, because it is a lot of money."
'Encourage the brightest'
The biggest financial incentive - £3,000 over three years - will go to those students winning a place at a top university, those most difficult to get into.
Dr Sue Brownlow, director of the Combined Universities in Cornwall, said local education bosses wanted the scheme "to encourage the brightest and best of young people in Cornwall".
She said: "From whatever their background and whatever their financial means, we want them to go on to study the best courses at the best institutions anywhere in the country."
Joe Vinson, the president of Cornwall College Students' Union, said the offer of £30 was a "drop in the ocean" compared with fees, but that, overall, the scheme was "positive".
Cornwall Council's cabinet will vote on the scheme on 18 July. It would cost £1m in the first year, rising to £3m later.
If approved, the council said it would be the first local authority to encourage young people to go to university by offering cash as an incentive.