MP wants Five Islands School inquiry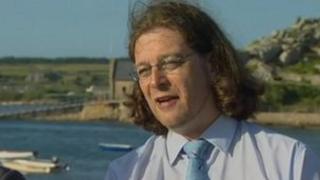 An MP has called for an independent inquiry into the resignation of the head teacher of the Isles of Scilly's only secondary school.
Bryce Wilby has resigned after being initially suspended from Five Islands School in May.
Liberal Democrat St Ives MP Andrew George said he was asking for direct intervention from Education Minister Michael Gove.
The Department for Education has yet to comment on his request.
The Church of England school has about 250 students and is controlled by the Council of the Isles of Scilly.
Mr Wilby, who was head teacher for more than three years, was suspended after "apparent financial irregularities" were found during a routine audit.
He previously told the BBC that he was not told the reasons for his suspension and he was confident any investigation would show he had done nothing wrong.
The leader of the islands' unitary council, Mike Hicks, said the Audit Commission was investigating the financial situation.
Mr Hicks said he hoped that the commission's report would be finished soon and that the allegations against Mr Wilby currently "remained allegations".
Mr Wilby has not been available for further comment.