Camilla opens Cornwall air ambulance HQ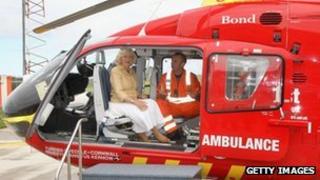 The Duchess of Cornwall has officially opened the new headquarters for Cornwall's Air Ambulance at Newquay Airport.
The charity's patron climbed aboard a helicopter and spoke to pilots and paramedics as well as people who owe their lives to the service.
Later Camilla and Prince Charles visited Lostwithiel.
The Duke and Duchess of Cornwall's three-day tour of Cornwall and the Isles of Scilly ended on Wednesday.
Duchess's tweet
After visiting the air ambulance service the duchess said in a tweet : "I want to say thank you to everybody for the service they provide & the lives they save."
She met Catherine Gardner, 35, from Winslow, Buckinghamshire, and Harriet Eastwood, 13, from near Truro in Cornwall.
Ms Gardner's life was saved when she was airlifted from Crooklets beach after falling into the sea from a horse, while Miss Eastwood was also airlifted from a beach after becoming caught in a rip current.
The prince later visited the Old Duchy Palace in Lostwithiel, which is being restored by the Prince's Regeneration Trust in partnership with the Cornwall Buildings Preservation Trust.
The Grade I listed building had previously been on the Buildings at Risk Register and was in need of repair if it was to survive.
The palace, built by Edmund Earl of Cornwall in 1292, was made the administrative centre for the Duchy of Cornwall in 1337.
In 2009 the Prince's Regeneration Trust, of which Charles is president, bought it for local people to use.
Work is due to be completed by the end of 2012.