Mary Portas criticises 'short-minded' Liskeard shop owners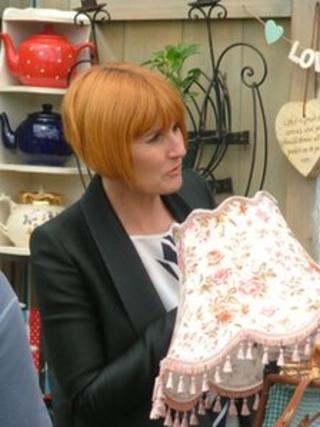 Retail guru Mary Portas has criticised attempts by owners of some Liskeard shops to cash in on a government-funded rejuvenation scheme.
Liskeard is one of 12 English towns which won £100,000 of government money to try out ideas drawn up by Ms Portas to rejuvenate their High Streets.
But after the announcement two Liskeard shop owners put up the asking price of their properties.
Ms Portas called it "ridiculous" and "short-minded" on a visit to the town.
She said: "It won't give long term investment and nobody wins in that situation. Unless you work together this won't work."
A surveyor acting for a shopowner said the hike was a response to the Portas project, but he was simply acting on the owner's request.
Ms Portas said her first impression was that Liskeard was "rather beautiful, but also rather empty and not got enough people in it".
She said: "There doesn't seem to be a synergy in the High Street and that's what I would be looking at, how you can get a consistent offering."
She also said there were not enough places to park.
"I would go to the supermarket out of town and then this poor town ends up being empty which is a real tragedy because some of the shops are great but there is no footfall."
She said the £100,000 would give towns "focus and opportunity to start making changes".
In March, the government announced it had accepted "virtually all" 28 recommendations made in the report it commissioned from Portas on how best to revive the High Street. They included making parking more affordable and disincentives for landlords who left shops empty.
Twelve High Streets - from Cornwall to Northumberland - were selected to share a £1.2m pot of government cash to rejuvenate shopping areas.
Fifteen more "Portas pilot" areas will be selected later this year.