Health campaigner calls for Cornwall bed blocking cash clarity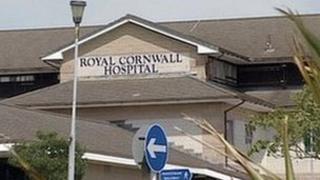 A health campaigner is calling for clarity on how Cornwall Council is spending money to tackle bed blocking.
Graham Webster, from Health Initiative Cornwall, said there were up to 50 patients waiting daily to be discharged from the Royal Cornwall Hospital.
He said he wanted to know how the council was spending £10m of NHS money intended to help get patients home.
The council said it has agreed to hold an enquiry day on hospital discharge and issues around delayed discharges.
Bed-blocking happens when support from social care or district nursing, often paid for by local authorities, is not available in the community for vulnerable patients who are ready to be discharged.
The cost to the NHS of keeping a patient in hospital when they are ready to be released is estimated at £260 a day.
Mr Webster said he believed a solution was for the council to commission the Royal Cornwall Hospitals Trust (RCHT) to finance a discharge ward.
Trust chief executive Lezli Boswell said: "The RCHT does continue to experience pressures in terms of delayed transfers of care.
"These can be patients waiting for social care packages or further NHS care for example in community hospitals.
"We work daily with our colleagues across the health and social care community to ensure our patients are discharged in a timely and appropriate way."
A statement released by the hospital said: "The average number of recorded delays per day at RCHT in 2010/11 was 16.5 following significant in-year improvement.
"This increased to 21.0 on average in 2011/12, and during April and May 2012 was at an average of 24.2".