Giant 50-year-old lobster caught by fisherman in Cornwall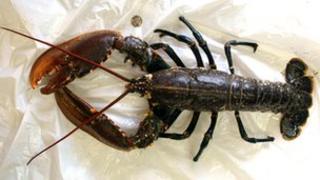 A giant lobster which is thought to be more than 50 years old has been caught by a Cornish fisherman.
The crustacean measures a metre (3.3 feet) in length and weighs more than four kg (8.8 pounds).
Because of its dimensions, including hand-sized claws, it has been deemed too old to be bought for the restaurant trade.
The Blue Reef aquarium in Newquay has adopted the lobster, which could live for another 30 years.
Jenni Smith from the aquarium, said: "He's a fantastic specimen and by his size alone he has got to be at least 50 years old.
"He is an amazing creature and it's quite an achievement to have reached such an impressive age."
According to the aquarium lobsters are among the planet's oldest inhabitants with fossil remains dating back more than 100 million years.
They are also extremely long-lived with some individuals reaching ages in excess of 80 years.
The heaviest recorded crustacean is an Atlantic lobster which was caught in 1934 and tipped the scales at an awesome 19kg.