Falmouth Harbour dredging trial gets go-ahead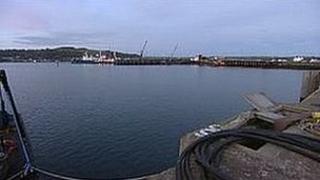 A small-scale trial of dredging in Falmouth Harbour is to go ahead.
The trial - by Plymouth University in a bid to measure any environmental impact - was due to begin in August and last six months, harbour managers said.
Falmouth Harbour Commissioners applied for permission for the trial from the Marine Management Organisation (MMO).
Local companies and unions said a wider channel for ships would help secure the port's future. Critics said dredging would damage protected seaweed beds.
Fish nurseries
The Falmouth Harbour Commission (FHC) wants to dredge a large area of the harbour and widen its channel from 5m to 8m (16ft to 26ft).
The process, which would involve removing tonnes of silt from the seabed, would make it easier for larger vessels, such as cruise ships to access it, it said.
However, the harbour area contains beds of rare calcified seaweed, or maerl.
The beds of the tiny coral-like sea creatures act as a nursery for commercial fish stocks.
Natural England has raised concerns about the affect of dredging on the maerl.
Falmouth Harbour Commissioners (FHC), which is behind the dredging, said it would affect less than 2% of the maerl.
One of the aims of the trial is to see if the beds would survive such dredging.
The trial will be carried out by the university's Marine Institute and specialist dredging contractors.
Falmouth Harbour Master Mark Sansom said he was "pleased that the process is moving forward".
He said: "This is an important step towards providing more evidence for consideration by the MMO in reaching a decision on the proposals for dredging a deep water channel into the docks."
The MMO said: "We have agreed to the trial as it will provide information on the extent to which maerl and its associated communities survive and recover from translocation."