Croyde shark alert after fin spotted between swimming flags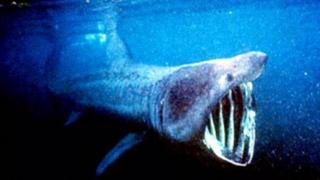 Surfers, swimmers and body boarders left the sea after a shark's fin was spotted off the Devon coast.
A member of the public raised the alarm at about 17:30 BST on Thursday after seeing the fin in the waves about 20 to 30m (65 to 98ft) offshore at Croyde.
RNLI beach lifeguards advised people to leave the water as a precaution as the fin was spotted in the safe swimming zone.
The Shark Trust said it was "highly likely" it was a basking shark.
Species 'harmless'
Earlier this month, Cornwall Wildlife Trust said basking sharks were back in Cornish waters in higher numbers than last summer, with 28 reported sightings in June alone.
Often referred to as "gentle giants", basking sharks are so named because they are usually spotted when feeding in shallow waters in the summer months and appear to be basking in the warmer water.
An RNLI spokesperson said: "We are lucky enough in the South West to be surrounded by a spectacular coastline and with that equally fantastic wildlife.
"It's not unusual for there to be sightings of sharks or other large mammals off our coasts and while these species are harmless, RNLI lifeguards on the beach maintain a watchful eye for all aquatic hazards in the water."
The fin had been spotted between the red and yellow flags put up to denote where it is safe to swim, so with heavy rain and poor visibility, lifeguards took the decision to advise water users to come out of the sea.
The Shark Trust, a UK charity which works for shark conservation, would like people to contact them to report any suspected shark sightings.