August opening for Falmouth aquarium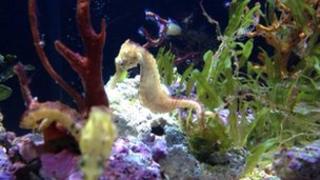 A new aquarium being built in Falmouth is expected to open in August.
The attraction, which has the backing of scientists from Falmouth Marine School, has just secured exhibits from the Natural History Museum in Washington.
It will also feature a porpoise skeleton which has been prepared by experts in Bristol.
The aquarium project has been led by scuba divers Johanna Naradzay and Barry Pope working with conservation groups.
Science laboratory
"There's been a lot of 'wows' from a lot of children who have been poking their heads around the door," Mr Pope said.
"We're hoping there will be a similar reaction to the Cornish things as well - even though they're not as colourful, they're still very interesting."
The aquarium is located in a four-story town house, with the third floor dedicated to educating the public on a range of issues facing the world's oceans and the wildlife that inhabit them.
The aquarium will also provide a laboratory for scientists from Falmouth's Marine School, as well as a new X-ray exhibit, showing what sharks, eels, fish and other marine species look like from the inside.