Mousehole employs professional fundraiser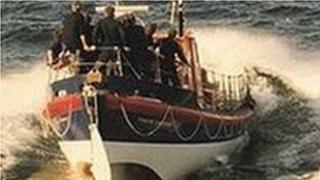 A Cornish village which has spent 10 years trying to raise £350,000 has employed a professional fundraiser.
Suzy Messenger will be paid to raise funds to turn Mousehole's pilchard factory into the Solomon Browne Memorial Hall.
The village committee and Ms Messenger would not disclose how much she was being paid to raise the funds.
The hall is named after the eight-man crew which died in the Penlee lifeboat tragedy of 1981.
'Valid cost'
Ms Messenger said: "Fundraising is not an exact science, it is an art form, and with any applications that we do, we have to prove the benefits and the impact on the community.
"It's a massive job but I think it's achievable and it has a huge amount of goodwill from the community."
She said as part of her role she hoped to introduce youth opportunities, including volunteering schemes and apprenticeships, while the building was being renovated.
Barbara Hanik, chairman of the committee, said: "It will make a wonderful space for all sorts of community activities."
Ms Messenger said she had previously been involved in government funding programmes in which she allocated £11.5m to projects, and had raised £5m for other causes.
She said: "It costs money to fundraise these days. It's a very real and valid cost."
Current vacancies listed by the Institute of Fundraising showed salaries ranging from £14,000 to £32,500.