Fears of rail service cuts to Cornwall dismissed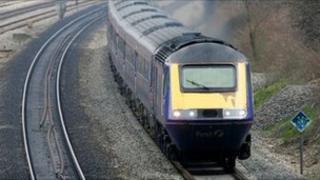 Concerns that rail services between Cornwall and London could be cut under a new franchise deal have been raised by the leader of Cornwall Council.
The council said it was "led to believe" proposed changes under the deal would result in fewer services.
Leader Alec Robertson said it would be a "serious set back for Cornwall's economy" if such plans went ahead.
However, the Department for Transport (DfT) dismissed the concerns saying that regular services would remain.
The new franchise is due to start in 2013.
A spokesperson from the Conservative-Independent led authority said: "The council has been led to believe that the specification for the Great Western Rail Franchise will result in the number of through services from London to Cornwall reduced from nine to six per day."
'Left behind'
Andrew George, Liberal Democrat MP for West Cornwall, St Ives and the Isles of Scilly, said: "It doesn't mean that the services will be reduced to that level.
"As we understand it does mean the companies that are bidding for the franchise might be able to include proposals that would reduce the service.
"This is something we're not prepared to put up with."
Mr Robertson said: "At a time when other parts of the country are seeing a £9.4bn package of improvements to their rail services, we would actually see a cut to services in Cornwall.
"It is vital that Cornwall does not get left behind as other parts of the country see significant improvements to their rail services".
A DfT spokesman said: "We are committed to ensuring that all passengers on the Great Western network continue to enjoy access to regular train services as part of the new franchise.
"Plans for the invitation to tender are currently being finalised and a more detailed announcement will be made shortly.
"We anticipate that the new 15-year contract will encourage investment that will deliver benefits to passengers and taxpayers."