New £100,000 skatepark for St Dennis village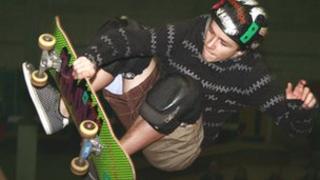 Work is expected to begin later on a new £100,000 skateboard park in Cornwall.
It has taken two years to develop the idea and raise funds for the park at St Dennis near St Austell.
St Dennis parish council chairman Fred Greenslade said he was confident the facility would "entertain" people for "many years to come''.
Financial support for the park came from a combination of grants and donations from the business community.
Mr Greenslade said: "We are confident that this facility will entertain and exercise fans of non-powered wheeled sports for many years to come.
"We are told that the presence of keen adults at a well designed park such as this, will be a good influence on the younger ones and help them learn how to co-operate and support one another in developing their skills."
More than £30,000 came from the Clay Country Local Action Grant, part of the Rural Development Programme for England (RDPE) towards the project.
The parish council also received a grant of £25,000 from the Biffa Award scheme for the site. The scheme awards grants to community and environmental projects across the UK.
Several local businesses also contributed towards the cost of the park.
Local skateboarder Brandon Keast said '' We have waited so long for this to happen we never thought it would actually get built, but we are really looking forward to the launch in a couple of months so we can get to grips with the transitions and jumps.''