Olympic debut for Cornish artist's wooden sheep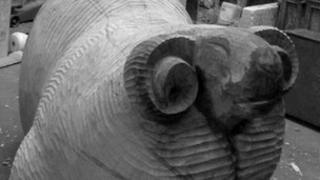 Life-sized wooden sheep sculpted by an artist based near Truro will be taking up residence at the London Olympics.
Reece Ingram, from Feock, was commissioned to make seven sheep that will line the fence of the equestrian centre at Greenwich Park.
The 3.5ft (1.1m) long, oak animals are made using a chainsaw to create the basic shape and then a hammer, chisel and gauge to carve the detail.
Mr Ingram said this was "one of the biggest moments of my career".
"I'm really chuffed, I didn't expect to have ever have done something as big as this," he added.
Independent environmental consultancy, Land Use Consultants (LUC) commissioned the artwork for the Olympic Games.
'Olympic legacy'
Mr Ingram said he has worked with the company on other high-profile projects such as The Eden Project, the Diana Princess of Wales Memorial Playground in London's Kensington Gardens, Grizedale Forest and most recently a housing estate in east London.
Mr Ingram said: "I've got more sheep in London than they have in Dartmoor."
After the Games are over, the sheep will be moved to an adventure play area in Greenwich Park, forming part of the Olympic legacy.
Working as a taxidermist before studying sculpture at Brighton College of Art in 1985, Reece then went on to study Site Specific Sculpture at Wimbledon School of Art.