CQC staffing concern at Royal Cornwall Hospital Wheal Agar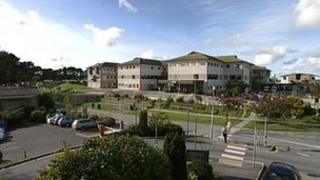 The Royal Cornwall Hospital failed to ensure there were always enough experienced staff on duty at Wheal Agar ward, a report by the Care Quality Commission has found.
Inspectors said the hospital failed to meet one of five "essential standards".
The independent watchdog carried out the inspection after the ward was closed and a number of staff suspended earlier this year.
The Royal Cornwall Hospitals Trust said it was working to solve the issues.
Staff 'struggling'
Inspectors visited the hospital in Truro on 23 May where they saw staff "struggling to meet the demands of patients" and heard from visitors who said their sick relatives had to wait too long for assistance.
Andrew McCallum, the nurse executive at the Royal Cornwall Hospital Trust said: "We have secured and confirmed the appointment of a ward sister. We are going to advertise that.
"We are monitoring the ward daily. The ward is being visited frequently by senior nursing colleagues to support staff."
The trust said it did pass four out of the five essential standards.
The hospital has two weeks to respond to the CQC with a report saying what action they are going to take.