Environment Agency seizes illegal gill nets near Looe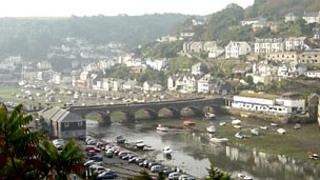 Two massive illegal gill nets have been seized by Environment Agency fisheries officers off Looe, Cornwall.
The patrol vessel Mor Teg went into action after the Agency received a tip-off from a member of the public.
The nets were more than half a mile (800m) in length and contained about 200 fish including 67 bass and 74 wrasse.
An agency spokesman said it had launched an investigation in a bid to identify the people responsible.
Rob Hocking, from the Environment Agency, said: "Fixed surface nets are prohibited in certain areas around our coastline not only to protect sea fish, but migrating salmon and sea trout as they return to our rivers to spawn."
The nets were seized under a Cornwall Inshore and Fisheries and Conservation Authority by-law which prohibits the use of fixed surface nets in nine areas of the Cornish coastline.