Isles of Scilly tourist idyll masks 'culture of fear'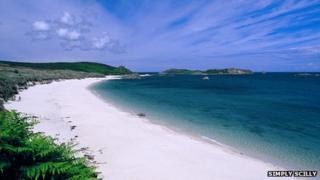 The first glimpse of the Isles of Scilly - white sandy beaches and crystal clear water - conjures up thoughts of a holiday paradise.
But some people living on the archipelago are displaying a growing unrest about how they are governed.
An uneasy stand-off has been brewing between residents and the island council for two years.
Matters came to a head in July when more than 100 islanders packed a meeting - the third in as many weeks - to try to tackle some of the concerns.
The islands are home to 2,200 people and the Council of the Isles of Scilly is the biggest employer, providing jobs for 10% of the population.
Some say the fear of losing these jobs means they are scared to speak out about what they see as secrecy, mismanagement and an abuse of power among senior council officers - allegations all strongly denied.
Anger first erupted in 2010 when senior officers were awarded an 18% pay rise, while most council employees' pay was frozen.
A petition against the rise was set up in a local shop, but there were accusations that a council official took a note of people who had signed the petition and some employees later lost their jobs.
Peter Lawrence-Roberts, the council's chief finance officer, said: "I would very much like to have the evidence of any officer of the council reported to have acted in this way.
"No council staff have lost their jobs in this way at any time."
He said the chief officer's team were keen to encourage a "healthy atmosphere of debate and challenge".
But the fear of reprisals - real or imaginary - has been cited as preventing some employees signing a new petition asking the island's councillors to put forward a vote of no confidence in chief executive Philip Hygate, and calling for his suspension pending an "independent and external investigation into his conduct and activities".
The catalyst for the latest outbreak of hostilities was the suspension in May of the head teacher of Five Islands School, Bryce Wilby.
No reason was initially given, although the council later said he was suspended after "apparent financial irregularities" were found during a routine audit.
According to the school watchdog Ofsted in July 2010, leadership at the school was good, behaviour of the 250 pupils was "exemplary" and their future outcomes "outstanding".
The suspension sparked an explosion of anger and residents, including retired GP Adrian Davies, formed the campaign group Heart (honesty, ethics, accountability, respect and transparency) of Scilly which wrote to school governors and the council expressing "feelings of disgust".
Suggestions that Mr Wilby was suspended for complaining about money being taken from the school's budget for other purposes were "completely untrue", the council said.
Mr Wilby, who insisted he had done nothing wrong, resigned in June and has not spoken since. Meanwhile an independent audit is being carried out by Cornwall Council.
Mr Lawrence-Roberts said it was "patently absurd" to suggest Mr Wilby was suspended for raising concerns.
"An action of this kind against a very public figure such as the head teacher of the islands' school is bound to attract a lot of attention and comment," Mr Lawrence-Roberts said.
"I am not aware of any threat to anyone's job or contract as a result of them speaking out against the suspension of Bryce Wilby."
But Isles of Scilly resident Louise Graham said the way the matter was handled angered residents.
Ms Graham, who grew up in the island and was once employed by the council as a countryside officer until she quit in 2007, said if people wanted change they had to speak out.
"The truth is you can't be afraid - you have to stand up and say when things are wrong," she said.
Ms Graham said about 100 people had signed the new petition, but believed that number would be higher if people were not afraid of losing their jobs, or local businesses did not fear losing council contracts.
"People need to have the courage to speak out without fearing for their livelihoods," she said.
Philip Hygate earns about £88,000 a year - considerably less than the £147,934 average UK chief executive.
Political analyst Adrian Lee said the Isles of Scilly Council was a "cradle to the grave authority" and its chief executive had more responsibility.
"It's... responsible for fisheries, tourism, transport, highways, water and sewage - in fact it's the only publicly-owned water board in the UK," the retired lecturer and former head of the politics department at Plymouth University said.
At the 2009 election, the two councillors from each of the four smaller islands were returned unopposed, while only 14 candidates contested St Mary's 13 seats.
Committees scrutinise themselves, Mr Lee said.
"With only four meetings a year, that structure gives the committee chairmen and top officers a great deal of power and makes it more difficult to ask awkward questions."
Mr Lawrence-Roberts defended the council against claims of secrecy, and said most meeting items were discussed in public.
But he acknowledged the concerns expressed at the last public meeting, which he himself attended.
"I expressed great concern that words such as 'fear' and 'retribution' were being used.
"I am happy to speak to any member of the community at any time in the strictest confidence.
"I know all members of the council would feel the same way."
But another former council employee, who asked not to be named, said islanders had little confidence in the authority's ability to address problems.
"People need to speak out for things to change, but so far not enough are prepared to... so maybe we've got the council we deserve."