Angharad Rees tribute from Poldark co-star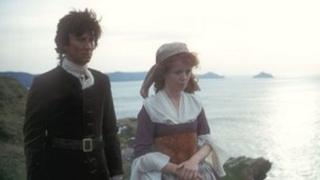 Poldark actor Robin Ellis, one of the stars of the Cornish production, has paid tribute to his co-star.
Angharad Rees, who played Demelza, has died aged 63 after a battle with pancreatic cancer, her family said.
Mr Ellis described the actress as someone who "threw herself into the part. She was wonderful to be with".
Poldark, written by Winston Graham, was filmed in Cornwall and has had several re-runs in the UK and went on to be sold in 40 countries.
Mr Ellis said: " It was a wonderful time to spend with her. She was a very talented and beautiful actress.
"It was a surprise how popular it became. We had no idea the impact it would make quite quickly.
"Audiences built from 5m to 15m or so. We both said the stories and the characters written and created by Winston Graham were at the base of it."
Various locations in Cornwall were used during the programme including Lostwithiel, St Just, Charlestown and Land's End.
Mr Ellis said: "I will remember Angharad with huge affection.
"I have a great admiration for her talent and joy in my heart because it was really a special time.
"Maybe we didn't know at the time. I write a blog, and the reaction on the blog over the last few days has been astonishing. She clearly touched people's hearts."