Cornwall MPs concerned over London-Penzance trains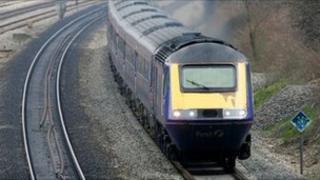 Cornwall's Liberal Democrat MPs have raised concerns the number of direct trains between London and Penzance have not been guaranteed under a proposed rail franchise.
Travellers currently have nine direct services on offer a day.
But the Department of Transport (DfT) said the Great Western franchise would provide nine links a day - with at least six involving direct services.
MPs said they would keep applying pressure on the government.
The DfT said it had asked bidders to explore how services might be improved.
'No clear victory'
Rail Minister Theresa Villiers announced on Friday the requirements expected of the successful bidder for the 15-year franchise.
She said the sleeper service to Penzance would be retained and an extra early, fast train from London to Plymouth introduced.
However, she added a final decision had not been taken on the exact number of direct services between London and Penzance.
She said: "The invitation to tender requires the continuation of nine journey opportunities between London and Penzance each day - in addition to the sleeper - with at least six being provided by through trains."
Any non-through services would involve passengers having to change trains.
The MPs - North Cornwall's Dan Rogerson, St Austell and Newquay's Stephen Gilbert, and St Ives' Andrew George - said they were to continue lobbying for nine to be the minimum amount of direct trains.
Mr George said the minister's announcement was "not the clear victory Cornwall needs".
He said: "We have everything to play for now. We must keep up the pressure until at least the tender deadline of October 2012."
The three Lib Dems are half of the county's six MPs.
Four bidders
The leader of Conservative-Independent led Cornwall Council, Alec Robertson, said the news was an improvement on what was previously feared.
He said: "A couple of weeks ago, a service of nine journeys was off the table.
"But now the minister has asked for bidders to bid on both options [nine direct services, or nine services involving connections], so we have nine services back on the table."
The new franchise is due begin on 21 July 2013.
The four shortlisted bidders from run the franchise are: First Great Western Trains Ltd, GW Trains Ltd, NXGW Trains Ltd and Stagecoach Great Western Trains Ltd.
First has run the Great Western franchise since 2005.
The new operator would be announced in March 2013, the government said.