Helston Railway asked to move platform from Trevarno Estate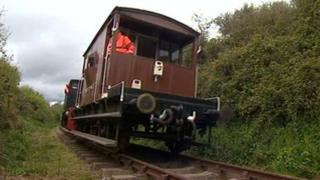 A private railway in Cornwall has been given eight weeks to move a platform from a country estate near Helston.
The Helston Railway Preservation Company (HRPC) has a mile of track running through the Trevarno Estate.
Potential new owners have asked the group to relocate the station away from estate land for privacy.
HRPC's Richard Barnes said: "Some members are a little sad because of the amount of work they have put in but everyone's pulling together."
The 750-acre estate closed to the public in April after attempts to sell it failed.
As the track bed is not part of the sale, the company will still be able to run trains for the full mile of track laid.
Until its closure, the £10m Trevarno Estate attracted about 80,000 visitors a year.
The original Helston branch line, which connected the town to main line services to London, was closed in 1964 as part of cuts recommended by Dr Richard Beeching, the chairman of the British Railways Board.
Mr Barnes said: "All that will happen is there will be a new car park and less of a walk for visitors. The shop, cafe and train will now all be in one place."