Praise for Olympic star Ainslie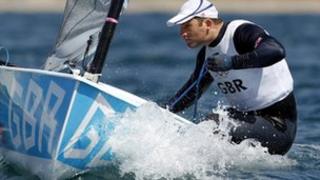 Restronguet Creek, near Falmouth, which once played an important role in Cornwall's tin and copper mining industry, has another important place in history.
It was there that an eight-year-old Ben Ainslie took to the water, beginning his love and success for sailing.
He is now the most successful sailor in Olympic history after winning gold in the Finn class in the 2012 Games.
It is the 35-year-old's fourth gold medal, a record, and it comes after a hobby quickly turned into a way of life, with its origins in Cornwall, and fresh roots put down in Hampshire.
'Inspirational for students'
Ainslie attended Truro School, where his dedication to the sport was obvious.
By the age of 16, he was already Laser Radial World Champion.
Present head teacher Paul Smith said: "While he was at the school, he spent a lot of time on the water.
"Ben donated a tracksuit to the school from one of the Olympics. It's hanging in the dining room with his signature. It's inspirational for our students."
Ainslie makes regular visits to his old school - to the delight of the present-day pupils.
Mr Smith said: "Ben gives inspirational talks to the schools, he allows the youngsters to go off with his medals. He's very gracious with his time and to the school."
Ainslie is now based in Lymington, Hampshire, and he became a member of the Royal Lymington Yacht Club in 2000.
Club secretary Kevin Podger, 57, said: "It's hardly surprising Ben moved to this area - the nearby Solent is the centre of the action in terms of sailing."
Mr Podger said Ainslie was one of the most "committed and focused" sailors he had ever met.
"He puts a huge amount of time and effort into it - it's his life, he's always out on the water," he said.
"In terms of his private life though - he likes to keep that quite separate."
Keen to maintain his Cornish roots while living in Lymington, it has been reported that the local pasty shop is Ainslie's favourite shop in the town.
"Oh yes, he's a regular visitor - he often pops in for a large traditional," said Alex Davis, manager of The Cornish Pasty Company Ltd.
The 46-year-old said: "He doesn't make a big show of himself though - he's very friendly and easy going."
'One of life's nice guys'
One of Ainslie's other regular haunts when he is in Lymington is The Chequers Inn.
Landlord Simon Thoyts, 49, said: "He's been coming in for about the last 12 years - and his sister Fleur had her wedding party here too.
"In fact, just after he won his second Gold medal, I remember him coming in with it and saying he wanted me to be one of the first to see it.
"He's one of life's nice guys and he talks to everyone."
Councillor Barry Rickman, leader of New Forest District Council, said Ainslie had raised the profile of sailing in the area.
"He is a fantastic figurehead in the New Forest and an excellent role model for our local young people," he said.
"I'm sure it is an inspiration to all our local residents to watch athletes like Ben, at the biggest sporting event on earth, and realise that you can belong to one of our many great clubs in the New Forest and make it all the way to the top."
Ahead of the 2012 Olympic Games, Ainslie was back on Cornish soil to start the torch relay at Land's End.
He said: "That was incredible, growing up in Cornwall, it was really special to start off the torch relay it was so exciting.
"To see the delight on the youngster's faces at the relay will inspire future generations."
Despite saying he was "pretty speechless" immediately after his 2012 win, Ainslie acknowledged how important his early days in Cornwall were in his success.
But he also gave his thanks to everyone across the country who had helped him.
He said: "I learned to sail for fun, so it's been a long road.
"But I have had a lot of support over the years and I am just so glad to have done it."