Visit Cornwall bans the words 'county' and 'England'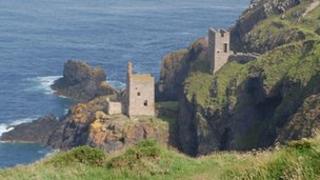 Tourism staff have been told they should no longer use the word "county" or mention England when referring to Cornwall in promotional literature.
Malcolm Bell, head of Visit Cornwall, told staff "region" or "Duchy" should be used instead.
He said it was about "distinction" and "not being politically correct or bowing to pressure groups".
Mebyon Kernow, which campaigns for Cornish independence, said it was "an excellent practice".
'Different culture'
Mr Bell said the decision was taken because some people were "annoyed" when Cornwall was not referred to as a Duchy.
He said: "It satisfies the people who get annoyed with the word county but most won't actually notice it so it's just a way of moving forward, it's just being sensitive.
"We would never deny we're a county and deny that we're actually part of England."
In an email to staff, Mr Bell approved the use of "Cornwall", "Cornish", "Duchy" and "region" but added that in all future literature "even England references should be avoided".
'Good thing'
He said: "It's just working on that difference that Cornwall has got and it has got a different culture, a different history which actually helps us to market the county.
"If the word county was appropriate we would use it."
Loveday Jenkin from Mebyon Kernow, said: "We think it's excellent practice. Cornwall is not a county of England, even though it's administered as such, and Duchy should be used.
"A lot of Cornish people get very irritated, so it will reflect a truer position of Cornwall."
Visit England said: "They're forging their own identity and that can only be a good thing."