Helen Glover Olympic victory parade through Penzance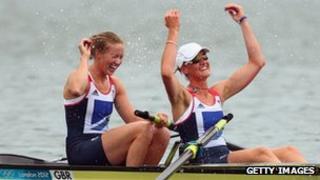 Olympic gold medal winner Helen Glover will take part in a victory parade in her Cornish home town later this month.
Glover will be driven on an open-top bus from Newlyn to Penzance on 19 August to honour her rowing achievement.
Although she now lives in Caversham near Reading, Glover started her sporting rise to fame in Penzance.
The rower said support from Penzance had been "unbelievable" and she was looking forward to "thanking everyone".
Glover, 26, and rowing partner Heather Stanning, 27, took gold in the Olympic rowing pairs final, winning Britain's first gold medal of the 2012 Games and Britain's first by women rowers.
She said: "I'm really excited to see everyone and thank everyone for everything they have done and for supporting me for the last four years."
The parade will end at her former secondary school, Humphry Davy.
Theresa Grainger, Humphry Davy school business manager and tour organiser, said the bus would "hopefully stop at Helen's golden post box" as well as "Jelberts ice cream shop" in Newlyn, run by the gold medallist's parents.
Last week a Royal Mail postbox was painted gold in Penzance in honour of her winning performance.
After she found out about the postbox, she said: "It's great that it's happening to my home town, it's just really nice to be able to give a little bit of excitement back, because I want everyone to feel like they're part of it, because they are."