Rent-free Liskeard shops anger traders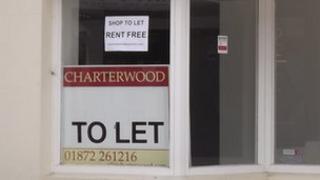 Plans to offer free rent for a year on empty shops in a Cornish town have angered some existing businesses.
A team put together by retail expert Mary Portas said the idea was to bring more shoppers into Liskeard, Cornwall's only "Portas Pilot" town.
Ms Portas said the move would encourage long-term business tenants.
But computer shop owner Steve Core said: "It's unfair competition and penalises existing traders who do pay rent."
Mr Core, who has been in business in Liskeard for 20 years and pays a monthly rent of £425 said: "It doesn't seem right.
"Giving them the opportunity to start a business with no rent, whilst I and my associates are busy paying the full amount."
'We're struggling'
Glynn Sargeant, who works in a tattoo parlour in the town, said: They will come in and stay for the rent free period and then when they get charged, they will be gone again."
Angie Masters, who grew up in Liskeard and runs a ladies clothes shop in the town, said: "We're struggling. I can't see how it's going to help existing businesses."
Liskeard is one of 12 towns to receive £100,000 as a Portas Pilot - a government-sponsored scheme by retail expert Mary Portas to spruce up High Streets.
Retired retailer Lin Moore, who is working with the Portas team, said: "It's to bring more shops into the town and bring foot-fall in so the people here aren't going to be shutting their doors in 12 months time.
"We are doing it for the benefit of the town."
Ms Moore said the landlords of the empty shops agree "it's a bit of a gamble, but one worth taking".