Palette 'owned' by artist John Opie bought by St Agnes museum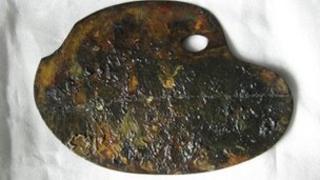 A palette thought to belong to 18th Century artist John Opie, has been put on display at a Cornish museum.
Stewards from St Agnes museum say paint from the palette will be analysed to confirm its origins.
It was discovered in an auction brochure by accident by a volunteer at the museum.
The palette was bought via telephone, bidding against competition in the auction in Gloucestershire.
John Opie was born at Trevellas, St Agnes near Truro. In 1782 he first exhibited at the Royal Academy.
He painted many distinguished men and women of his day. Opie died in April 1807, aged 46, and was buried at St Paul's Cathedral.
'Encrusted in paint'
The museum has confirmed the palette did belong to Edward Opie, great nephew of John.
Edward was the only one of his family to take up painting himself.
Museum officials believe John Opie's second wife, Amelia Alderson, was so impressed when Edward exhibited at the Royal Academy that she gave him the palette.
Liz Thompson, from the museum, said: "It is absolutely encrusted in paint. On the back are two dates. One is 1788, which would date to the time John Opie was painting.
"The other one which has Edward Opie's signature on it is 1839."
Mrs Thompson's husband discovered the palette while searching online for local items. The estimate for the historic item was £40, however it was finally sold to the museum, for £500.
The museum is hoping to clarify its link with John Opie in the Autumn.
Mrs Thompson said: "It's possible to date paint samples from tiny amounts. If we can show there was paint from John Opie's generation and some from Edward then we will have the link between the two."