Newquay pub The Cribbar brings 130 new jobs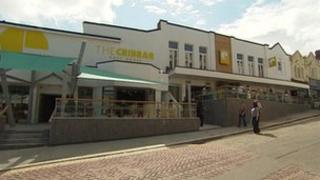 More than 100 summer jobs have been created in Newquay with the opening of a new £2m pub.
The Cribbar will employ 130 in the peak holiday season and about half that at other times, said operator JD Wetherspoon.
It takes its name from the Cribbar reef, which stretches out under the sea from Towan Head.
Newquay Safe, a partnership of local authorities and police, welcomed the new pub.
Spokesman Dave Sleeman said: "If you looked at this site 12 months ago you would not recognise it. It was like a wild west shanty town.
"Some parts of Newquay still look a bit a tatty so we need to go upmarket."
Wetherspoons is promoting the pub as family friendly during the day, but it also has a dance floor and will be open up to 04:00.
Manager Richard Hardiman said: "Myself and my team are looking forward to welcoming customers into the pub and we are confident that it will be a great addition to Newquay's community."
Lyndon Harrison, chairman of Newquay Chamber of Commerce said: "We need more family orientated businesses in Newquay during the day.
"Whether we need the extra nightclub I don't know but I'm willing to see how that works out."