ShelterBox trustee Sir John Banham quits after founder 'removed'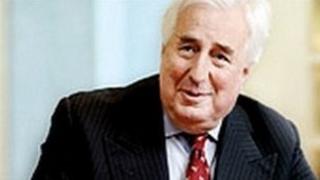 A trustee of Cornwall's ShelterBox charity has resigned over the dismissal of its chief.
ShelterBox founder Tom Henderson was "removed" as chief executive officer (CEO) after a "unanimous" decision by the board of trustees, the charity announced earlier this week.
Sir John Banham said he left after Mr Henderson was offered the role of president and it was later withdrawn.
The board said it was "saddened" by Sir John's allegations.
'Serious mistake'
A former director general of the Confederation of British Industry (CBI), Sir John said he did not agree that Mr Henderson's removal was "unanimous" as he had not been in favour of it, and was "very disappointed personally" that he had had to resign.
He said: "I had no choice but to resign because I was unable to convince my fellow trustees that they were about to make a very serious mistake which would damage the long-term interests of the charity.
"That mistake was to withdraw an offer of the presidency of ShelterBox to Tom Henderson, the charity's founder, which had previously been made and accepted, not three days earlier."
In a statement the charity said: "ShelterBox does not wish to prejudice any ongoing processes and therefore cannot comment substantively about these matters at this stage.
"However, in the interests of the charity it must confirm that the charity's board of trustees followed sound legal advice throughout this matter."
The reason for removing Mr Henderson has not yet been made public and ShelterBox has refused to comment further.
The charity delivers survival equipment in large green boxes to disaster areas around the world and is currently providing aid in the Philippines, Uganda and Lebanon.
John Leach, previously operations manager, is standing in as CEO.
Mr Henderson was appointed OBE in 2010 for services to humanitarian aid, 10 years after setting the charity up.
The BBC has attempted to contact Mr Henderson several times, but he has been unavailable for comment.