Safety fears for Padstow railway station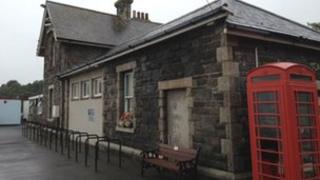 A north Cornwall town may lose its Victorian railway station building because of safety concerns, the local council has warned.
The building in Padstow has high levels of radon gas as well as a broken sewer and unsafe electrical wiring.
The town's council offices, which have been based in the building, are having to relocate in September.
Councillors said they would work with history groups in the town in an effort to save the building.
Sue Lee, the Padstow Town clerk, said: "We had a recent electrical safety check and there are issues with the electric. The building has four times the recommended levels of radon for office space."
'Very uncertain'
A flat roof section at the end of the building, which is not part of the original structure, is likely to be knocked down.
However the council has not ruled out knocking the station building down, with Ms Lee describing its future as still being "very uncertain".
"We've had a lot of comments from railway enthusiasts all over the world about how important it is to retain the building," Ms Lee said.
The Town Council is moving out in September and will decide what should happen to the building, which is not listed, following public consultation.
Padstow's railway station was opened in 1899 by the London and South Western Railway (LSWR).
It was one of many lines threatened with closure during the 1960s in the Beeching report and finally closed in 1967.
Chris Heaps, from the Railway Heritage Trust, said: "The station is one of the last remaining relics of the Southern Railway in Cornwall.
"People can apply to have it listed in the short term then its significance can be assessed over time. Then it can either be confirmed or not confirmed, but at least it would protect the building in the short term."
The Town Council will move to new offices on the Trecerus Industrial Estate in September.