Couple sell home to run 19th Century omnibus in Helston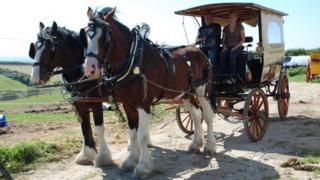 A couple from Cornwall have sold their house and belongings to operate a 19th Century omnibus with shire horses.
Pete Woodford and Nicky Mendham are now living in a tent so they can live their dream of 20 years.
Their two stallions, George and Ringo, named after members of the Beatles, will be pulling the restored omnibus.
Owner Pete Woodford hopes the omnibus journeys to Helston in west Cornwall will extend to more towns in the future.
Mr Woodford said: "It's a fantastic sight to see and it's something I have wanted to do for many years.
"Everything I own has basically gone into what I love doing. Anything to bring this fantastic rare breed out to the public."
Mr Woodford said the busy road into Helston will not affect the horses' confidence. "They are 100% bomb proof in any traffic whatsoever," he said.
"They're our babies really," said Nicky Mendham. "They are expensive to keep.
"They're on a heavy feed at the moment while they're working. They cost three times more than we do on the food bill."
Mr Woodford hopes George and Ringo will soon take part in wedding services as well as educational trips for schools and pleasure rides.
The first omnibus in the UK started in London in 1829, but had been running in Paris and the US for a few years previously.