St Michael's Catholic free school to open in Cornwall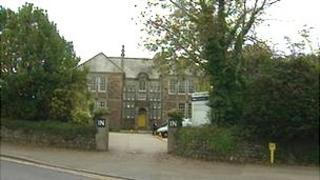 Cornwall's first Catholic free school will open with 60 students in September, its head teacher has said.
St Michael's Catholic secondary is opening on the site of the former Camborne Girls' Grammar School next week.
Head teacher Neil Anderson said the school had done "very well" to have confirmed its first intake without operating under free status before.
Staff said they hoped it would have about 100 pupils in the future.
St Michael's was formerly an independent co-educational school with about 25 students in Truro.
It is moving to Camborne after the Department for Education bought the old grammar school site for it for about £700,000.
'Done very well'
Mr Anderson admitted that the school not being able to prove itself before opening with its new status had made it difficult to attract students.
He said: "We got the funding agreement in July, but I understand why parents would want to see the school open before they commit.
"But we've done very well to get to where we've got with the 60 children we'll have for the opening next week."
Education Secretary Michael Gove claims free schools, which are state-funded, will "raise standards in communities where the need is great".
They can be set up by groups of parents, teachers, charities, businesses, universities, trusts, religious or voluntary groups, with funding direct from central government rather than through local education authorities.