Isles of Scilly group calls for better transport links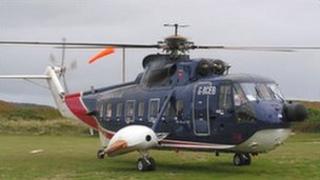 A new group has been formed to highlight the difficulty of travelling to the Isles of Scilly.
Friends of Isles of Scilly Transport - or Frist - said it was to discuss how to raise issues with the government.
A helicopter service to the islands from Penzance will end on 31 October after British International Helicopters (BIH) ran into financial difficulties.
The Scillonian passenger ferry only runs seven months a year. Aeroplane services can be affected by weather.
Plane flights by Skybus operate from Bristol, Exeter, Land's End, Newquay and Southampton, but are more susceptible to bad weather than the helicopters.
A freight ferry does operate throughout the year, but only takes a few passengers.
Richard Emslie, who provides a car park service for Scillonian users and is a member of Frist, said something was needed in place "all year-round".
'Fogged in'
He said: "Helicopter services are too expensive to maintain, and the Skybus service being based at Land's End is quite often fogged in for days on end."
BIH decided to end its service after delays in plans to sell its Penzance heliport site to Sainsbury's.
A judicial review was called for into how Cornwall Council handled the planning application - a process which BIH was told could take up to two years.
That delay meant the company was unable to secure money quickly enough and had to close its service.
Dick Cliffe, chairman of Penzance Chamber of Commerce, said: "I lived in the far north of the Shetland Islands, a community of 600 people, and we had eight ferries a day.
"So it's bizarre to be down here, a population of 2,000 and 100,000 visitors and a ferry that only runs seven months a year.
"We are joined at the hip economically. All kinds of business services are provided by Penzance, it's millions of pounds a year."
Frist wants the government to subsidise the routes.
Labour peer Lord Berkeley said he was raising the issue in the House of Lords, adding that urgent action was vital.
He said: "The campaign has to convince the government that, if something goes wrong after the helicopters are finished, the islanders are marooned."
Despite the helicopter flights being stopped, the deal between the airline and Sainsbury's was still set to go ahead, BIH said.
It has offered up to 40 flights a day to the islands - about 28 miles (45km) south-west of Cornwall - since 1964, and has been used by about 130,000 people a year.