Lottery boost for young people's surfing project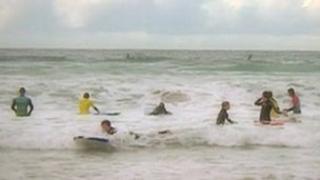 A Cornish project which uses surfing as a therapeutic activity has been given more than £177,000 from the Big Lottery Fund.
The Wave Project was formed in 2010 to support children suffering from emotional trauma and mental health issues.
The organisation works with youngsters in Cornwall and north Devon.
More than £1m has been given to projects in the South West in the latest round of lottery funding.
'Big impact'
Joe Taylor, project manager at the Wave Project, said: "We're absolutely delighted to get this funding and for a project like ours it is a game changing award.
"It's going to help turn our small project into something more substantial that will have a big impact. It will make a big difference to a lot of people."
Young people undergo a six-week course run by professional surf instructors and supported by trained volunteers from the local community.
They work in small groups of up to 10 and learn to surf, with support from the volunteers and overseen by the instructor.
The Wave Project believes the course "will help clients to improve their self-confidence, help make new friends and develop social skills, improve physical health and provide a sense of achievement".
Other projects
The Malpas Village Hall Project near Truro has been given £211,016 from the Big Lottery Fund to build a new village hall.
The current facility is a leaking 120-year-old hut, without a toilet or functional kitchen. Upon completion, the project hopes to deliver activities for the community such as fitness, education, ICT, craft classes and book and cookery clubs.
A grant of £386,433 has been awarded to Plymouth Play Association to develop and increase play work activity across the north west, south west and south east of the city.
Hele Village Community Association in Torquay has been given £245,865 to run a programme of learning activities for disadvantaged families over five years.