Dishwasher tablet eaten by woman at Cornwall Care home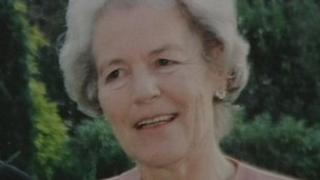 An elderly woman with dementia has been taken to hospital after eating part of a dishwasher tablet at a care home.
Rose Moore ate the tablet at the Trevarna home operated by Cornwall Care in St Austell. She was taken to hospital but suffered no ill effects.
Her family criticised the fact she was able to gain access to the tablets.
Cornwall Care said it was "incredibly sorry", adding the tablets had been removed and the Care Quality Commission (CQC) was investigating the incident.
'Whole box'
Ms Moore's daughter-in-law, Jenny Moore, said the family was "really angry" and the situation was "totally unacceptable".
She said: "We're really very fortunate we're not talking about a fatality.
"She could... quite easily have taken a whole box of tablets, taken them to her bedroom and consumed them all."
The company said the situation was "discovered more or less immediately" and staff had taken Ms Moore to hospital.
Company chief executive Douglas Webb said: "Any harm that comes to any client we'd look at very seriously indeed.
"People have to remember that our residents and clients have full lives.
"For people with dementia, living in a domestic environment which is as close to normal as possible is very good for them.
'Some little risk'
"Some take a great deal of pleasure with helping, such as putting out linen and putting dishes in the dishwasher, and that would explain why the tablets were available.
"The judgement that is to be made is between a life that is full of opportunity - and sometimes some little risk - and maximum safety. It can be a very fine line."
Cornwall Care said it had temporarily removed the tablets and would change its policies if the CQC found it at fault.
The company added the tablets did not fall under the same category as things such bleach, which were stored separately in controlled areas away from residents.