New flood prevention scheme opens in Truro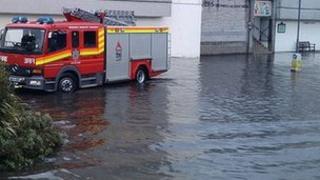 A £3m flood prevention scheme has opened in Truro.
The project includes a new wall at Lighterage Quay and low flood banks being raised at Boscawen Park in the city.
The Environment Agency said it should protect more than 200 properties from flooding.
The scheme has been funded using £2.25m from the agency, with Cornwall Council as the harbour authority providing the rest of the money.
Lord Smith, chairman of the Environment Agency, said: "Our flood defences are going to have to work harder to cope with the things climate change are going to bring to us."
At Lighterage Quay, the Environment Agency has built a new steel pile quay wall in front of the existing wall.
The agency has also raised low spots along the flood bank in Boscawen Park to bring it back up to the level it was when first built about 15 years ago.
Environment Agency Area Flood and Coastal Risk Manager Gordon Trapmore said: "The centre of Truro is at risk of flooding both from the high tides and heavy rain.
"This scheme will ensure that we continue to provide protection for Truro, but is also capable of being adapted in the future to deal with the effects of climate change and maintain people's quality of life.
The Environment Agency has issued more than 50 flood warnings and more than 150 flood alerts across England and Wales.
On Monday, parts of Britain experienced up to a month's rainfall in 24 hours.