Support for FreshStart St Austell ex-offender project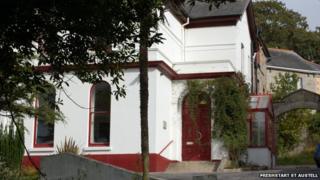 An ex-offenders' housing project which attracted criticism when it was set up in a Cornish town, has been praised by the local mayor and police.
There were concerns the FreshStart St Austell project could result in a rise in crime levels.
But Devon and Cornwall Police said that had not happened and mayor John Keast described it as "worthwhile".
Of the 18 ex-offenders living in the St Austell town house, 86% are working, volunteering or in education.
"It's very obvious that real effort is being made to run this place properly and do a lot of good and the very fact that there isn't that criticism around any more suggests it's succeeding," Mr Keast said.
In 2008, more than 100 local people attended a public meeting to voice concerns about the project.
FreshStart manager Vicki Hamilton said although there had been some initial problems, she was "incredibly proud" of the progress.
From July 2008 until 31 December 2011, 69 residents had taken part in the project.
Thirty-four moved on successfully, 14 were asked to leave, eight abandoned their accommodation and 13 were taken into custody - an overall positive outcome of 49%.
In 2012, 67% of the residents - who have drug or alcohol problems and were prolific offenders - have moved on with a "positive outcome".
PC Dave Buckland, from Devon and Cornwall Police, said although it had not worked for everyone, its multi-agency approach had made a difference and re-offending had been cut.
"FreshStart gives 24/7 support and advice to people who genuinely need it," he told BBC News.
"If they need help it's here, it's quick and it's accessible - that's what makes the difference."
'Strict boundaries'
PC Buckland has weekly interviews with residents, but also operates an "open door" policy.
FreshStart receives funding from Cornwall Council's Supporting People.
Ms Hamilton said the success was down to "strict boundaries" and agency collaboration.
"We have strict curfews and we work closely with police, health and probation, so if somebody doesn't come home when they're supposed to, the police are alerted," she said.
There is a house curfew from 23:30 until 07:30, although some residents may have stricter probation or licence curfews.
Life changing
There are house rules and chores and drug testing is done at least once a week.
Residents can stay for a maximum of two years, but more than half move on in less than a year.
Former resident, 32-year-old former heroin addict Pete, said having spent much of his adult life in prison, FreshStart helped him turn his life around.
"There's lots of activities... I had the option to do other stuff rather than go out and commit petty crime," he said.
He still visits the project to have regular drug tests.