Bills for SWW customers wanting shared sewer pipe changes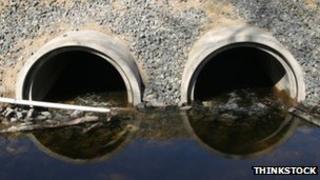 Customers of South West Water (SWW) face charges if they want to build on or near shared sewage pipes on their property.
The company took control of 3,500 miles (5,633km) of shared sewage pipes on private properties in October 2011.
Customers wanting to make changes within 3m (9.84 ft) of such pipes need a survey carried out by the firm.
SWW said the charges were for initial surveys and then for any following pipe alteration work if it was required.
'It's just robbery'
John Smith, from Crantock, near Newquay in Cornwall, found out about the charges after putting forward plans to build a garage over an existing shared sewer.
He said: "A sewer diversion form came in the post. On the bottom it said there was a charge of £1,500, plus VAT.
"They have to come and view the site and make plans to divert the sewer line. It's just robbery, that's all it is."
He said he had made a complaint to the company.
SWW said the new system would make things easier and cheaper for customers while at the same time improving the sewage network.
The company said the initial fee was £126 for a survey, but other charges were added when "the work required is more complex and time-consuming, such as when the sewer will have to be diverted".
It added that all the fees were charged at cost, and all work was tendered to ensure competitive market rates.
South West Water covers Devon and Cornwall, as well as parts of Dorset and Somerset.