ShelterBox loses Norway affiliate in sacking row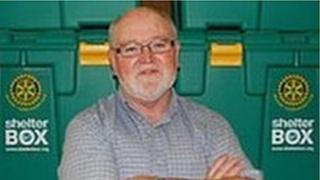 Overseas aid charity ShelterBox has lost an affiliate in Norway amid a row over the sacking of the charity's chief executive and founder.
Tom Henderson was dismissed in July and is appealing against the decision.
The Cornwall-based charity confirmed that ShelterBox Norway had ended its relationship with ShelterBox because it did not agree with his removal.
The charity, which sends boxes of aid to natural disaster-hit areas, said its work had been unaffected.
Mr Henderson co-founded ShelterBox in 2000 and it now has affiliated charities in 20 locations around the world that are run autonomously.
'Serious issue'
The charity has declined to say why he was removed and Mr Henderson has been unavailable for comment.
John Leach, acting chief executive, said another ShelterBox group had stepped in to take over in Norway.
He said: "I am sure the concern raised by some overseas affiliates will continue but our job is reassure them and only a tiny fraction of our income comes from Norway.
"It is always sad to lose anyone from the ShelterBox family."
The charity's major fundraisers in the US and Canada had been "completely supportive" of the decision to remove Mr Henderson.
"I don't want people to feel that it has had any impact on our fundraising or deployments."
He said the charity was expecting Mr Henderson's appeal to be resolved "in the next few weeks".
He said: "A serious issue was brought to light earlier this year which resulted in dismissal.
"There was a lot of work done to keep him in the organisation but unfortunately agreement wasn't reached."
The Charity Commission said it was aware of Mr Henderson's dismissal, but "there is no current regulatory role for the Charity Commission to take with regard to these issues".
No-one was available for comment from ShelterBox's former Norway affiliate.
Each ShelterBox contains a 10-person tent, blankets, water purification tablets, cooking equipment, tools and a stove.