Penzance NHS dental surgery planned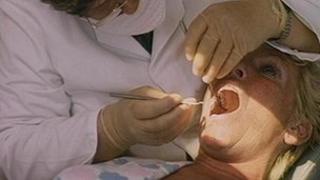 Hundreds of people waiting for an NHS dentist in a Cornish town will be able to access treatment from November.
NHS Cornwall and the Isles of Scilly has signed a contract with the Chapel Dental Practice for a new surgery in Penzance.
There are 560 people on the waiting list for an NHS dentist in the town and the new practice, in Market Jew Street, will take 2,800 patients.
Anyone in the West Cornwall area who is willing to travel can also register.
'Adequate provision'
Chapel Dental Practice, which currently has a surgery in Camborne, said the centre was "clearly needed" and its central position, close to the major transport links, should make it easily accessible.
Bridget Sampson, director of primary care for NHS Cornwall and Isles of Scilly, said the practice would replace capacity previously lost in the town, ensuring local people have access to NHS dentistry.
"We have also agreed to provide additional places on top of the town's immediate needs to ensure there is adequate provision going forward," she said.
In 2010, Morrab Dental Practice closed in Penzance, affecting about 3,000 patients.
Anyone seeking an NHS dentist in the area has been asked not to contact the practice directly, but should contact the primary care trust via NHS Choices.