Trevarno Estate's manor house is sold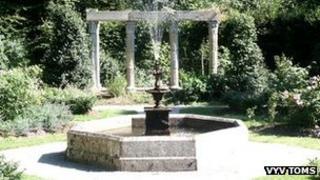 A manor house on a country estate which used to attract 80,000 visitors a year has been sold, estate agents have said.
The 750-acre Trevarno estate closed to the public in April after attempts to sell it as a single lot failed.
Estate agent Andrew Harvey said contracts had been exchanged with an anonymous buyer for the manor, and it and its associated gardens would no longer be open to the public.
The Helston Railway is to remain open after discussions with the new owners.
Farmland sales
Mr Harvey said former owners Mike Sagin and Nigel Helsby "did their utmost" to sell the estate to a buyer who would keep the gardens open to the public, but "this did not prove possible" and the property was to be a private residence.
He added: "We originally hoped to keep the estate intact and sell in one lot but the current economic situation made this impossible."
Other houses and cottages on the estate had also been sold to individual buyers, he said.
Joint agent David Hebditch added that a remaining 380 acres of the estate, including farmland, was still to be sold.
As part of the house sale, terms were negotiated to enable the continuation of the Helston Railway.
The Helston Railway Preservation Company (HRPC) has a mile of track running through the estate.
The original Helston branch line, which connected the town to main line services to London, was closed in 1964 as part of cuts recommended by Dr Richard Beeching, the chairman of the British Railways Board.