Padstow residents give views on mussel sculpture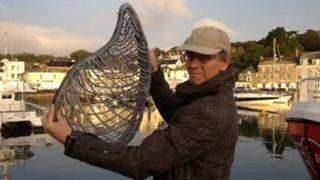 An idea by a local artist for a mussel-shaped sculpture has caused controversy in Padstow.
Hundreds of people attended a public display of the proposed four-metre (13ft) art installation on Monday.
Residents were asked to express their views in a questionnaire, with many saying it would not suit the tone of the town.
The man behind the idea, Andrew Nicholls, said he was disappointed by the town's reaction.
Mr Nicholls described the sculpture as a "beautiful engineered design, that slowly opens and closes with the tide... that adds something to this wonderful town".
Mr Nicholls wants the sculpture placed on the harbour wall in Padstow.
'In your face'
The resort has become well known for its seafood, with TV chef Rick Stein operating restaurants in the town.
Malcolm McCarthy, a harbour commissioner in Padstow, said: "I don't like it because I don't think it fits with the character of the town, and where it's going to be sighted is right in your face."
Paul Rickard, one of the residents against the plan, said: "It's a shocking waste of money. I don't like it at all."
Another visitor to the exhibition, Jean Hague, said: "I love the basic idea but I didn't really appreciate it was going to be quite so large."
If the £80,000 sculpture is given the go-ahead by the town council, funding would be sought from the Arts Council and the National Lottery.
Mr Nicholls said: "It's difficult when you're an artist, you see things from a particular perspective.
"I am disappointed that so many people have been upset. It was never my intention to upset people. We will see what the council decides."