Newquay summer crime drops by 24% says partnership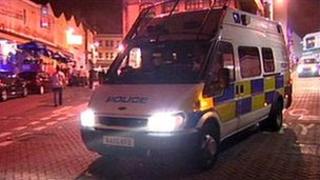 Recorded crime in Newquay has fallen by 24% during the summer compared to the same period in 2011, a campaign group has said.
Fewer tourists visiting the resort and a number of campaigns are thought to be behind the drop, the Newquay Safe Partnership said.
More than 400 fewer offences were recorded between 1 June and 31 August.
The partnership involves Devon and Cornwall Police, Cornwall Council, businesses and residents in the resort.
Malcolm Bell, head of Visit Cornwall, said it had been "an exceptional year in terms of distractions for people" with the wet weather, the Jubilee and the Olympics.
"In August we were down on numbers, ironically we bounced back in September, I think that's a general trend probably across Devon and Cornwall."
Supt Julie Whitmarsh said there had been "significant declines" in crime and anti-social behaviour in Newquay.
"In 2009, 690 crimes were recorded in the town during the summer, that's 690 victims between 1 June - 31 August, that's dropped by 120 in 2012... it's down considerably.
"Last year there were 83 victims of violence with injury, that's now down to 58, which still sounds a lot, but when you think of the thriving night time economy that's really quite low. It's an improving picture in Newquay."
'Families returning'
The No Nonsense Campaign targets street disorder and people carrying offensive inflatables or wearing offensive clothing. It made 219 arrests and banned 54 people from the town.
Since 2011, a number of pubs and clubs have agreed to use toughened glassware and stop using glass bottles in a bid to cut the number of glass attacks. In 2010, 14 attacks were recorded, eight in 2011 and two this summer, the partnership said.
In 2012, ID scanners, which police said could prevent people from using fake IDs and alert staff to people who have been banned from other clubs were introduced to seven premises in the town.
In August 2012, 42,131 scans were made which revealed 372 underage customers and identified 242 people who were banned.
Dave Sleeman, from Newquay Residents' Association, said: "The police have done a brilliant job. There's less noise at night and less anti-social behaviour.
"The town's changing and families are returning to the resort."
The results have been released as part of an annual evaluation of the partnership.
The initiatives are being shown to senior police officers from Saudi Arabia, Bahrain, the Seychelles, Algeria and Ghana who are visiting the resort to see how the partnership has tackled anti-social behaviour.
The partnership was set up in 2009 to crack down on underage drinking after the deaths of two teenagers in the town.