Porthcurno Telegraph Museum gets £82,000 grant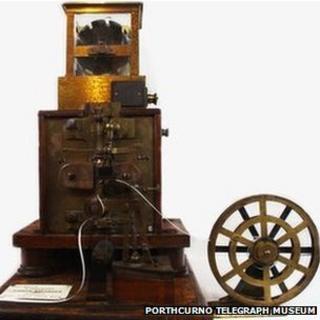 An £82,000 grant has been given to a museum to help preserve objects linked to Cornwall's telegraph history.
It will be used to protect "unique items" at Porthcurno Telegraph Museum, including a siphon recorder used to record signals in the 19th Century.
Special cases will be bought to protect items like the recorder from high temperatures and humidity.
Porthcurno was the British hub for international cable communications from 1870-1970.
The money from Arts Council England will also be used to improve the museum's digital resources.
A museum spokeswoman said: "The Sir William Thompson's siphon recorder was used to record signals sent via the Porthcurno to Bombay telegraph cable.
"Only two of these impressive instruments survive, one at Porthcurno and its twin at the Science Museum London.
"Replacing more rudimentary technology, the siphon recorder revolutionised international communications."
Collections manager Charlotte Dando said: "Many of our objects are unique, dating back over 150 years, and all have specific preservation needs.
"The award from Arts Council England will fund conservation grade cases that will showcase these beautiful and important objects while ensuring they can be admired by future generations."