Duchy of Cornwall submits plan for 800 Newquay homes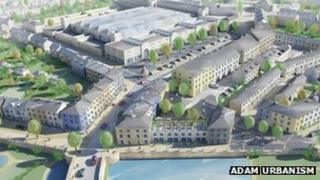 Plans for 800 homes, shops, a supermarket and a primary school on the edge of a Cornish town have been submitted by the Duchy of Cornwall.
The site to the east of Newquay's town centre, known as Nansledan, has been earmarked for development by local authorities for more than 20 years.
Nansledan is expected to eventually accommodate 3,750 homes and a similar number of jobs.
Building could start in the next two years if it gets permission.
The Duchy, which provides an income for the Prince of Wales, owns most of the 218 (538 acre) hectare site.
The Duchy said the development would also bring improved links with the Aerohub Enterprise Zone at Newquay Airport, where the government hopes thousands of jobs will be created.
Andy Cole, chairman of Newquay Regeneration Forum, said: "I think they are fantastic plans. We have been promised them for 20 years and now we have something on the ground.
"We need the housing which will offer an opportunity for people who are struggling to get on the housing ladder."
The Duchy is working on the development with Morrish Builders, CG Fry and Son, and Wainhomes.
The Duchy has also recently applied for outline permission for employment space, enough it says to support around 600 jobs, opposite Hendra Holiday Park.