Minister supports Royal Cornwall Hospitals' foundation bid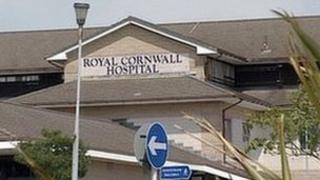 A bid by the Royal Cornwall Hospitals Trust (RCHT) to become an NHS Foundation Trust is being supported by Secretary of State for Health Jeremy Hunt, managers have said.
Foundation status allows NHS managers more freedom to manage their budgets.
Mr Hunt's approval meant the RCHT had passed the second stage in the transition process, the trust said.
The last stage would see it assessed by Monitor, the independent regulator of foundation trusts, it added.
RCHT Medical Director Paul Upton said he anticipated the trust gaining foundation status in 2013.
"It's a very positive step which is great for the county, but there's a lot of work still to be done," he said.
One of the biggest problems the trust has to overcome to gain the status is address its debts.
Mr Upton said the RCHT's debts were "currently in the low 20 millions", but that recent work had seen the trust in an increasingly stable financial position.