Fowey Community College has 'proper Cornish' door signs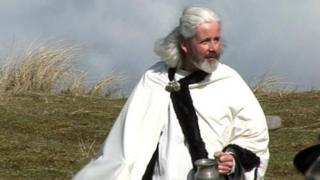 A school in Cornwall has put up door signs in both English and the Cornish language.
The wooden signs have been engraved for every classroom and office door at Fowey Community College.
Head teacher John Perry said the students had shown a real interest in the language and the signs should help to keep interest in the Cornish culture growing.
The signs were made by design and technology technician John Radford.
'Real interest'
On the school's maths tutor room, the oval sign has "Mathematics" engraved on it and written below is the Cornish word "Awgrym" with the room number "Hwegh" [six].
Mr Radford is now working on new signage for the school's reception area, which will featuring the wave logo on the school website and "welcome" in Cornish.
Mr Perry said it was St Piran - the patron saint of Cornwall and tin miners - who sparked the idea for the Cornish signs.
"This idea first came to mind around St Piran's Day in March when we compiled presentations on what it means to be Cornish," he said.
"The students showed a real interest in the language and shortly afterwards a Cornish dictionary was sent to us by a local publisher.
"We thought it would be a great idea to include Cornish around the school as a way of keeping the Cornish culture growing."
Fifteen-year-old student Will Chapman said being Cornish was important to him.
"I was born here and when I leave school I want to stay in the county," he added.