Cornwall Council leader Alec Robertson loses confidence vote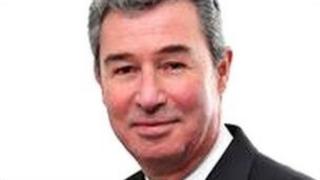 The leader of Cornwall Council Alec Robertson has been removed after a vote of no confidence.
The vote was held over the decision to push ahead with plans to part-privatise key council services. The full council had voted against the proposals.
A motion to remove Conservative Mr Robertson, who joined the council in 2009, was approved by 63 votes to 49 out of 123 members.
Former deputy leader Jim Currie has been voted in as new leader.
The privatisation, which the cabinet of the Conservative-Independent authority said would be part of a "strategic partnership", could affect up to 1,000 council staff.
Applause in chamber
A report to the cabinet claimed the contract would save at least £2.5m a year.
Mr Robertson had said the plan would protect jobs.
The no-confidence vote was held after more than 40 members of the council signed a motion to remove him as leader.
More than 62 councillors were needed for the motion to succeed.
There was a round of applause in the council chamber after the announcement by council chairwoman Pat Harvey that the motion had been carried during the extraordinary meeting of the authority.
More than 4,400 people watched a live stream of the debate on the council's website.
Mr Robertson, who was not in the chamber during the announcement, has so far declined to comment on his removal.
A small group of protesters calling for Mr Robertson's removal held placards outside County Hall in Truro during the meeting.
Cabinet resignations
Two nominations were put forward for a new leader: Mr Currie and independent councillor Neil Burden.
Conservative Feock and Kea councillor Mr Currie won by 49 votes to 46, with five abstentions.
He had quit the cabinet last week over the privatisation plans, saying the financial risks behind privatising services were "unacceptable".
Stoke Climsland councillor Mr Burden was appointed deputy leader. He had been cabinet member for childrens' services.
Cabinet members Julian German, Chris Ridgers, Steve Double and Graeme Hicks resigned from the cabinet after Mr Currie's appointment.
Mr Ridgers said he had already told Mr Currie he could not serve in the cabinet with him.
However, Mr Currie will only remain in post for about six months, as he is standing down from the authority when a full council election is due to be held in May 2013.
In the meantime, he said it was "business as usual", adding: "I'm going to give it everything I've got to see us through until May."
The full council is due to meet on 23 October to debate the privatisation proposals.