Mary Portas helps clean up Liskeard street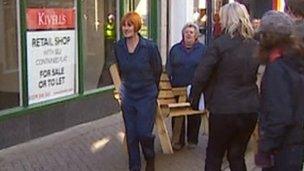 People in a Cornish town which is part of a government-sponsored scheme to spruce up high streets have been out cleaning and painting with retail expert Mary Portas.
Ms Portas joined the task force in Fore Street in Liskeard.
The town is one of 12 in England sharing money from the £100,000 scheme.
Ms Portas said the scheme was not just about improving the local economy, but also about restoring the pride of residents and businesses.
She said: "Would you rather see shops and buildings with with people in them, painted up and decorated? Or just left empty?
"Buildings, when they are left empty, make people feel low and feel flat.
"You actually have people with social problems when you have a town that looks like it's given up."
New benches and plants were also put in as part of the work.
Related Internet Links
The BBC is not responsible for the content of external sites.