Scilly helicopter flight link ends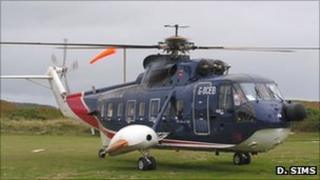 Daily flights by British International Helicopters (BIH) to the Isles of Scilly are ending.
The last flight at 17:30 GMT on Wednesday brings to a close more than 48 years of a helicopter link from Penzance to the Isles of Scilly.
BIH has cited rising costs and falling passenger numbers.
The islands, which have a population of 2,200, will have plane flights six days a week and a ferry, the Scillonian, which only runs in the summer.
Emergencies will be answered by the Royal Navy air sea rescue crews and the Cornwall air ambulance.
BIH is moving from its 15-acre site in Penzance at the end of October after selling the land to Sainsbury's.
The firm also faced a number of legal challenges against the sale of the Penzance land and said the wrangles had cost it more than £300,000.
When BIH announced in August it was ending its service, the St Ives' Liberal Democrat MP Andrew George described the move as "appalling" and a "disaster".
The government has faced calls to subsidise transport links to the Isles of Scilly, some 28 miles (45km) south-west of Cornwall.
Earlier this month, Lord Cameron of Dillington, an independent cross-bencher, told the House of Lords: "The total absence of a ferry from November to March means running a business and running a normal life is becoming a pretty precarious enterprise."